I have the misfortune of living in Clark County's 2nd congressional district.
I say misfortune because my congressman, Dean Heller, never comes to this part of the district. His Las Vegas district office is rarely open. Yes Nevada, your tax dollars are paying rent on a congressional office that is supposed to provide constituent services that usually sits empty, doors locked. He lost my assembly district in 2010 to challenger Nancy Price (Price had 63% of the vote in my precinct) and the Nevada Democratic Party didn't even try to win this election (no calling, no canvassing). Jill Derby beat Heller in Clark County in 2008 in an election where NV Dems actually put forth a little bit of effort.
I'm not sure this is going to be a cake walk for Heller. This will be the first time he faces the full force of NV Dems and its activists, including an assist from OFA and President Obama at the top of the ticket. And I know I'm not the only CD2-Clark resident who has been saving up Heller's racist anti-immigrant mailers, fact-less constituent letters and tax payer-funded official congressional correspondence that seem to only come out when he's running for re-election and look a lot like a campaign mailer.
But he's decided to run for US Senate anyway.
Here's the email I received today. The opening line is full of lulz.
Also included a screen print so you know the mangled first sentence was in the actual email.
Laura,

Your past support has meant a lot me and for this reason I wanted you to be among the first to know that I am running for the United States Senate.

It is difficult to see so many people hurting in my home state. As many of you know, I grew up in Nevada and my wife Lynne and I have raised our family here. We see the tough choices our friends, neighbors, and family members are making every day and I see how poor decisions in Washington are impacting their lives.

This is not the first time that Nevadans have endured tough times and it won't be the last, but I know that there are better days ahead.

Our strength as a state and a nation is bigger than the troubles of today. However, it is also incumbent upon us to effect change in difficult times to create a better future.

As families across Nevada struggle to pay their bills and fight to keep their homes, Barack Obama and his beltway allies are proposing record spending that will add to America's job-killing debt from a stratospheric $14 trillion to a staggering $20 trillion.

We cannot allow this to happen.

We can change the course we are on by taking action today. The choices we make can lead to big changes in our lives and the lives of our loved ones. This is a crossroad that will not only change Nevada, but significantly change the direction of our nation for years to come.

If we are to turn our economy around, we must remove impediments that have caused economic stagnation and the inability of businesses to create new jobs. Not continue with business as usual.

We cannot ignore our nation's very serious fiscal problems and continue to allow Obama's big government job killing agenda to continue.

I have long been an opponent of reckless government spending and continue to support a balanced budget. In 2008, I stood up to former President Bush, then Senator Obama, and Washington special interests and said no to the Wall Street bailout. In fact, I was the only member of the Nevada delegation to vote against the Wall Street bailout, not once but twice. My view then, just as it is now, is that debt fueled bailouts only hurts long-term economic growth and places taxpayers on the hook for the excesses of Wall Street.

Now I want to take this fight to the United States Senate.

Congress can no longer refuse to make tough fiscal decisions and stick our children and grandchildren with the massive debt that has been allowed to accrue for far too long. We must take control of government spending to instill long-term economic growth in our country.

There are those who believe government spending is not the problem and we should simply raise taxes and treat the American public as an ATM. Let me assure you that I believe Washington has a spending problem—not a revenue problem—and that tax increases are not the answer especially in our current economic environment.

Just like many families across our state, Lynne and I sit around the table and discuss the direction of our country, the future of our children, and the needs of the people of our great state who have endured in this struggling economy for far too long.

It is time to move beyond the failed policies of the past and create real economic growth in Nevada.

I know that the tough times are not yet over. However, I also know that there are better times ahead.

Together we can move our country in a new direction, get Nevadans working again, and create a more prosperous future for us and our children.

It has been an honor to serve you and our great state in the House. I hope I can count on your continued support. With your help, we can bring a new conservative majority to the United States Senate.

Sincerely,
Dean
Dean Heller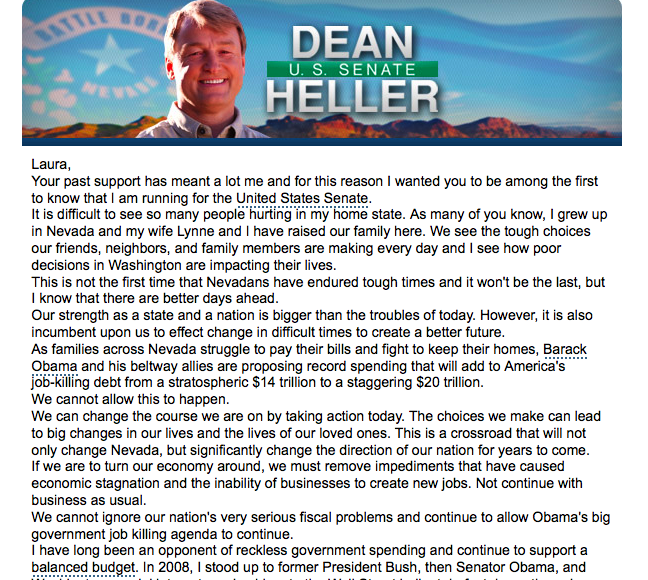 UPDATE: Updated to correct Price's winning percentage from 62% to 63%
--
Laura
laurakmmartin@gmail.com